Public Programs
The MoD offers a variety of public programming options for all ages to share in and explore our rich local history.
I'm looking for information on…
(Click a link)
Explore and Play at the MoD
Come explore the museum and check out our exhibit activities and challenges, including a museum-wide scavenger hunt. Fun for all ages.  Admission by donation.
Tinker: Interactive exhibit for all ages  
Canada is home to some of the world's most genius inventors and their creations. Several notable inventors made their name in Dufferin County patenting ideas inspired by local life. Come explore the contraptions, doodads, and devices that changed the way local citizens lived and worked. Take your best shot at our patent drawing guessing game or grab a tinker playset and see what you can create!  
Recommended for ages 6+ 
Sugarbush Maple Syrup Festival (Island Lake Conservation Area, Orangeville), March 15 & 16
On March 15 and 16 (10am-4pm), we will be at the Sugarbush Maple Syrup Festival at CVC's Island Lake Conservation Area in Orangeville. Come visit our booth and participate in our maple syrup-themed games and activities.
For information about the festival and to purchase tickets, visit www.maplesyrupfest.com.   
July – STREAMS Hub, Shelburne
The MoD is partnering with STREAMS Community Hub in Shelburne to deliver arts-themed workshops. STREAMS is a not-for-profit organization that seeks foster creativity, empower youth, and better communities through engaging learning experiences. For more information visit streamshub.org. 
Make sure to follow our social media for upcoming details on museum-led workshops and activities.  
August – Mansfield Outdoor Centre, Mansfield
This year, we have partnered with the Mansfield Outdoor Centre to deliver fun and engaging heritage-based activities to campers. Follow the MoD on Facebook and Twitter for upcoming details.  
For information about camps or to register, visit https://www.mansfieldoutdoorcentre.ca 
Each year, the MoD hosts a variety of programs and events for adults including guest speakers, workshops, and entertainment. Stay up-to-date on offerings by following us on Facebook and Twitter.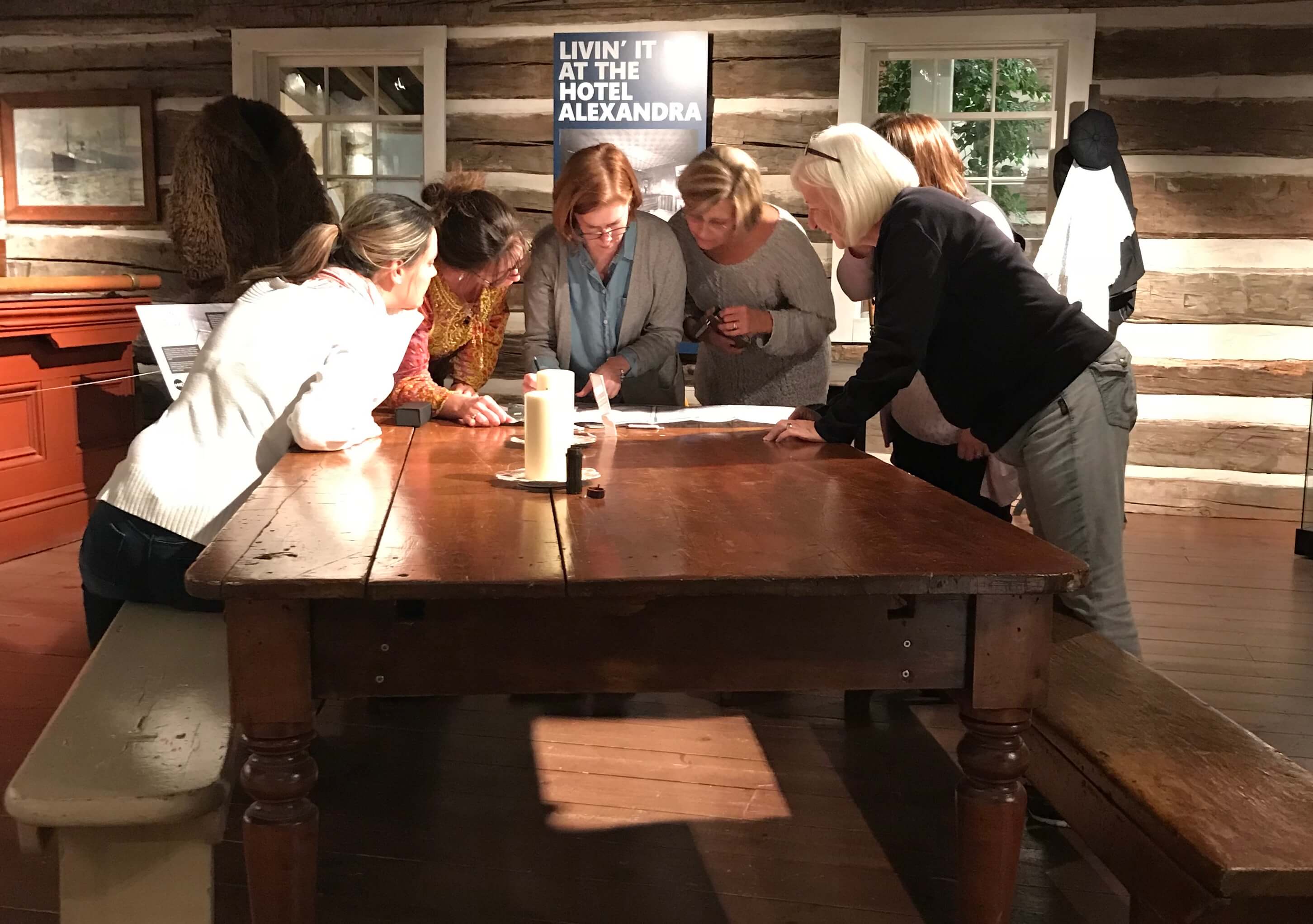 Escape Room: The Hotel Alexandra 
It's dry time and the Hotel Alexandra is the place to be! It's illegal to sell alcohol, but the secret still is in the back room and there's drinks all around – that is, until word gets out that the Hotel Inspector and a liquor raiding party of cops are on their way to bust the hotel, and everyone in it. You've got to make yourself scarce, but there's one problem: the door's locked. Can you escape in time?  
Grab a group of friends (no more than 8), and put your puzzle solving skills to the test.  Ages 12+, $20 per person 
Scheduled Dates and Times: 
June 7 & 21, 6:00-6:45, 7:00-7:45, 8:00-8:45 
July 12 & 26, 6:00-6:45, 7:00-7:45, 8:00-8:45 
August 9 & 23, 6:00-6:45, 7:00-7:45, 8:00-8:45 
Are you interested in a team building challenge? Request our escape room by contacting education@dufferinmuseum.com. Small group meeting spaces are also available for professional development sessions.  
The excitement of learning separates youth from old age. As long as you're learning you're not old. ~Rosalyn S. Yalow
The MoD is pleased to offer reminiscence programs at seniors' residences in Dufferin County and surrounding area. Take a trip down memory lane with historical objects, stories, pictures, music, trivia and more. Contact us for information on themes or topics. We are happy to discuss customized presentations.
1hour, $75 + HST
To inquire about Senior Reminiscence Programs, please contact Education Programmer, Julie McNevin at education@dufferinmuseum.com.