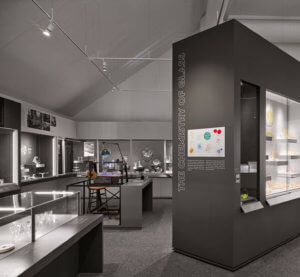 Corn Flower & the MoD
W. J. Hughes Corn Flower Glass is a Canadian business success story. The striking floral pattern was developed in 1912 by a young glass-cutter named William John Hughes. The Dufferin-born artisan grew his tableware creations into a national brand that has been enjoyed by Canadian families for over a century.
The delicate glassware was sold to working class families, at an affordable price, to add a bit of elegance and charm to their dinner tables.  Both W. J. Hughes and his son-in-law Pete Kayser were committed to the basic principles of quality and affordability, and their innovative marketing during the 1950s and 1960s made Corn Flower a household name.
With over 2200 pieces, the MoD is home to the largest public collection of W. J. Hughes Corn Flower glass in the world.
In 2017, the Museum of Dufferin was successful in its application to the Canada 150 Infrastructure Program, and received a grant of $150,000 to be put towards a new and permanent Corn Flower Glass Gallery. Custom exhibit cases and state-of-the-art lighting show off the intricate details of the glass – each piece was hand-cut by talented craftsmen in the Toronto factory. The exhibition also features interactive displays, historic photographs of the Dufferin community, funky advertising materials and of course, the most rare, colourful and quirky Corn Flower glass (a toothpick holder shaped like a boot?).
The new Corn Flower Glass Gallery is one of our favourite new spaces in the museum…sparkling glass alongside the story of a local Dufferin artisan, W.J. Hughes. If you haven't seen it yet, come by for a visit!
We're so pleased to have worked on this project with an amazing team. Thank you to Architects Lebel & Bouliane, Alula Lighting Design and our construction management team, Ritestart Limited. This project was funded by the Government of Canada (Canada 150, Community Infrastructure Grant) as well as Central Counties Tourism and various private donors. Come discover the story of Corn Flower Glass!
Photos by Ben Rahn / A-Frame / @aframestudio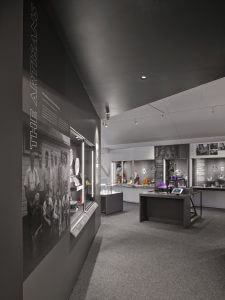 Did You Know?
The rarest colours of Corn Flower glass are blue, purple and vaseline (a vibrant yellow). It was difficult for chemists to keep these glass colours consistent during the mixing process. As a result, the Corn Flower company did not sell these colours very often! After 20 years of searching, the MoD has a very small and treasured collection of these pieces.
Did You Know?
The MoD has launched an online database that contains photographs and details of the entire Corn Flower Glass collection. This database is available to the public, free of charge. Did a family member pass Corn Flower glass on to you? Are you a glass collector? Search through the database here at the museum, or from the comfort of your own home. Perhaps you will discover some rare and beautiful pieces that you've had hidden away!
Come see the new MoD and discover the stunning creations of one of Canada's earliest design minds and most compelling entrepreneurs.
Buying and Selling Corn Flower
The MoD does not sell Corn Flower from our collection. Some pieces, which are not appropriate for the collection, are given to the Museum to sell as part of our fundraising program and are available for purchase in the MoD Gift Shop. The MoD does not generally buy Corn Flower or collections of Corn Flower.
If you are looking to sell your pieces you may enter them in our annual Corn Flower consignment sale. Anyone can put their items on consignment with us, we then have them authenticated, sell the authentic pieces and issue the original owner a cheque. For details on the sale, or to be contacted when we start accepting items for consignment, please contact pwoolner@dufferinmuseum.com or call ext. 4018.
If you are not concerned about selling the items and would just like to find your pieces a new home, you can donate them to our Fundraising Corn Flower program. This Corn Flower is sold in our Gift Shop and at the annual Corn Flower Festival, with the proceeds to Museum fundraising.